About Us
Amerta Chinese Restaurant in Monkstown prides itself on traditional Chinese dishes while still recognising the need to be modern, incorporating Cantonese, Thai and Singaporean dishes on their extensive menu.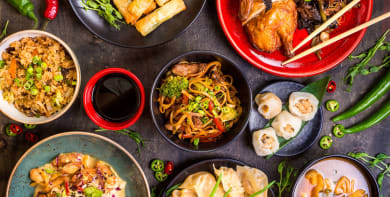 Reviews
"Still waiting 50 mins after delivery time"
"This place is just the best if I could give it more stars I would"
"I've been ordering collection from Amerta for a couple of years now. Never had an issue with mistakes or delays. Food is always spot on and the portion sizes are big."
"Very nice the food was thank you's so much yours kevin"
"Delicious food as always 👍"
Find Us
Dublin
1 Clifton Avenue, Dublin, MONKSTOWN
Opening Hours
| | |
| --- | --- |
| Monday | 17:00 - 23:59 |
| Tuesday | 17:00 - 23:59 |
| Wednesday | 17:00 - 23:59 |
| Thursday | 17:00 - 23:59 |
| Friday | 17:00 - 00:30 |
| Saturday | 17:00 - 00:30 |
| Sunday | 17:00 - 23:59 |
Delivery times may vary
We deliver to:
Ballybrack, Ballybrack (Dublin), Blackrock, Blackrockcarysfort, Blackrockcentral, Blackrockmonkstown, Blackrocknewpark, Blackrockseapoint, Blackrockstradbrook, Blackrocktemplehill, Blackrockwilliamstown, Cabinteely, Cabinteelygranitefield, Cabinteelypottery, Dalkey, Dalkey Hill, Dalkey Upper, Dalkeyavondale, Dalkeybullock, Dalkeycoliemore, Deansgrange, Dun Laoghaire, Dun Laoghaire Sallynoggin, Dun Laoghaireeast Central, Dun Laoghaireglasthule, Dun Laoghaireglenageary, Dun Laoghairemonkstown Farm, Dun Laoghairemount Town, Dun Laoghairesalthill, Dun Laoghairesandycove, Dun Laoghairewest Central, Foxrock, Foxrockbeechpark, Foxrockdeansgrange, Foxrocktorquay, Galloping Green, Glasthule, Glenageary, Johnstown (Dublin), Kill Of The Grange, Killiney, Monkstown, Mount Merrion, Sallynoggin, Sandycove, Shankill, Shankillrathsallagh, Stillorgan, Stillorganleopardstown, Stillorganmerville, Stillorganmount Merrion, Stillorganpriory